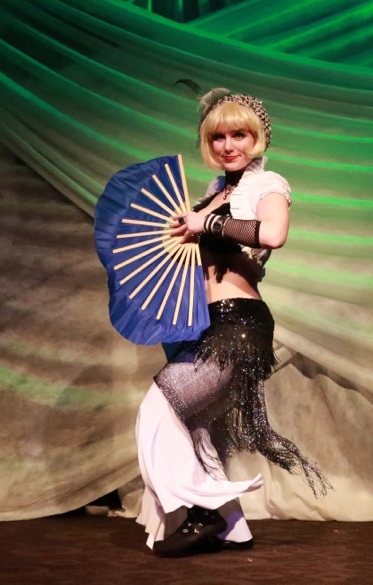 Sarina is a tribal fusion belly dancer who combines tribal or tribaret with various styles she has studied in the past. She primarily performs improvisational dance, and for that reason, she might at any given time be inspired to bust out something vaudeville, break dance, flamenco or other dance styles she has studied when it fits the music. Her love of soundtracks and old music is often evident in her musical selection in her performances and classes she teaches.
She began studying belly dance at the age of 16 after seeing Gypsy Caravan perform at the Oregon City Public Library. "That was the moment I fell in love with the art form," says Sarina. She studied belly dance with a variety of instructors, as well as studying Hula, swing, salsa and Scottish and Irish folk dance. Eventually she studied with Gypsy Caravan, then with Severina and on to Euphoria dance studios. She performed with Znama's student group, had solos, and began to teach workshops and children's belly dance classes.
When Sarina moved to Japan for work, she studied Turkish belly dance and break dance in Sapporo, but was disappointed by the lack of tribal belly dance available. As a result, she introduced Tribal and Tribal Fusion Belly dance by teaching at Soulwave, Deena's Dance Studio, and Studio 2001. She performed in informal settings at restaurants such as Caribe, as well as for audiences of up to 500 people at large events.
For the last six years, Sarina has been working and living in the Eugene area where she has studied tribal with Sabine, tribal fusion with Luminessah, flamenco with Elena Villa, taken workshops, and for the last two years immersed herself in tango. She has been an active member of the Middle Eastern Dance Guild of Eugene, performing at Cozmic Pizza, volunteering, and opening for events like No Shame Theatre, Trek Theatre as the Orion Slave Dancer, and dancing live to local bands like Mood Area 52's music. Sarina was the original artistic director of the Fusion Friendly Shows at Cozmic Pizza, has organized shows such as Sugar and Spice variety shows, the recent steampunk variety show at New Zone Art Gallery and books the musical acts for No Shame Eugene and other events. She makes many of her costumes and sells bloomers, bustle skirts, hair fascinators and steampunk jewelry at local retail shops, fairs and through her website. She teaches belly dance and bellylicious classes at Willamalane in Springfield and Reach Center in Eugene, and offers private lessons in her studio.