on Sat, 29 Sep, 2018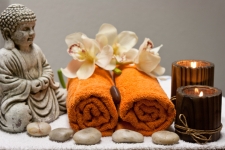 Taking care of your health involves more than just eating right and exercising. Sure, those are two habits you should definitely have, but your overall health is from head to toe, inside and out. This means that mental health, looking and feeling your best, and staying emotionally grounded is just as important. These strategies for overall health are designed with all of those needs in mind, and they're easy to incorporate into your everyday life.
Find Some "Me" Time
One of the best ways to put your health first is by taking some "me" time and pampering yourself. As often as you can, treat yourself to an at-home spa day. You may be surprised at how easy it is to create specialty spa treatments at home. Homemade skincare treatments and masks are easy to do, and they soothe your skin with all natural ingredients. Love getting a hot stone massage? Do your own hot stone massage at home, and brew a cup of tea to enjoy along with some relaxing music to really recreate the spa experience.
Create Joy Daily
The reality of everyday life is that joy doesn't always come our way without us being intentional about making it happen. You may not have time for a spa day every day, but you can create simple daily rituals that create joy. According to the blog Strong Sensitive Souls, something as simple as drinking lemon water each morning can help you find a sense of joy. These little rituals also help keep you grounded so that you always have a source of comfort when life gets crazy. On top of the emotional benefits, happiness also protects your physical health, which is why finding one small thing that brings you joy daily is an absolute must for good health.
Take a Break
We live in a hectic world, which means many of us are constantly doing something. If you frequently feel stressed and stretched thin, you might need to look at where you can say no so your schedule allows for time to slow down and take care of yourself. Adjusting your schedule slightly to get more rest is essential self-care for both physical and mental health. Getting enough rest helps keep your immune system up so you can fight off sickness and keeps you from getting emotionally exhausted.
Make Moving More Fun
Exercise and diet aren't the only daily habits necessary for good health, but they are the foundation for feeling your best, both physically and mentally. However, for many people, working out is one more thing they feel they have to do, and it's not exactly something they want to do. If you get into an exercise rut, try some new ideas to make fitness fun. HuffPost recommends asking a friend to join you. You can keep each other accountable, and it's even more fun when you join an exercise class together, especially one that's upbeat and energetic.
Give Your Diet a Boost
There are so many diets out there that it can be incredibly confusing if you're trying to figure out the best way to eat healthfully. One tried and true tip that never fails: eat more veggies! Vegetables are packed with the vitamins and antioxidants your body needs, so if you make only one change to your diet, you can never go wrong with more veggies. If you need new ideas for getting more vegetables in your regular menu rotation, we love these tips from Jessica in the Kitchen. Simple swaps like trying veggie noodles and adding veggies to smoothies are easy, and they're so yummy that you'll wonder why you didn't try them sooner!
When we're caught up in the daily grind, it's easy to end up putting our own needs on the backburner. Self-care isn't a luxury. Instead, look at self-care as a healthy way of life. All it takes is changing a few simple daily habits -- and a little pampering!
Article by Sheila Olson
Photo credit: Pixabay