on Thu, 27 Oct, 2022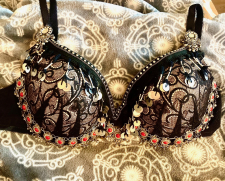 I love costuming. It is one of my favorite parts of belly dance. But for someone just getting started making their first coin bra, they might have no idea where to start. I wanted to create this post to show examples that I have made and my students have made to help inspire ideas, show a range from simple to complex, and give examples that look professional. I am specifically showing off pieces that look fusion and ATS (which I will call American transcontinental style) because ATS and fusion are the styles I am teaching in my classes. If you want to see a full range of styles that include cabaret, that is a separate post with suggestions of what to include in the creation of a coin bra or bustier.
Although I might be calling these pieces "coin" bras in this post, not all of them have coins. They might use metal in other ways. And even though I like websites like the Red Camel website (see the posts on sources to purchase items for belly dance) where belly dancers can find pieces to embellish their ATS costumes, some of my bras use upcycled projects like broken necklaces and thrift store items. You don't have to break the bank purchasing pieces to add—but you can if you want to.
As you peruse these artistic masterpieces, look for the embellishments that give these a fusion or ATS style: silver, dull or tarnished metal, chains, coins, metal bobbles, tassels, embroidered folk fabric, shisha mirrors, sea shells, folkloric beadwork, or other things I might have forgotten.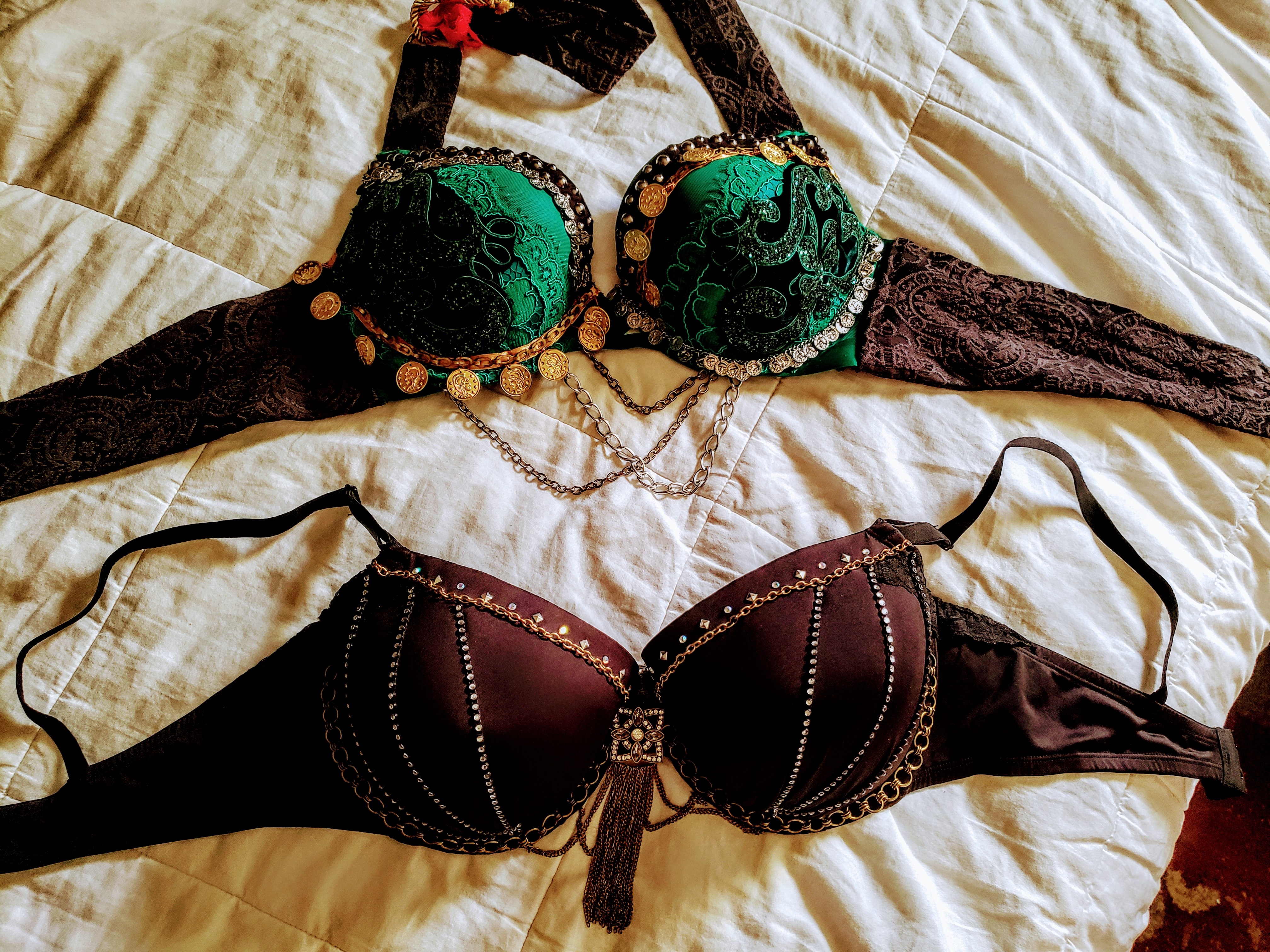 CJ Ravenwood
This first piece above by CJ Ravenwood shows two of their bras. The top is complex and uses more materials and creative skills. It could work for a range of styles.
A belly dance bra does not have to break your budget. The bottom one is tasteful, simple, and could be made with old jewelry someone doesn't wear anymore or pieces from a thrift store. What really makes this piece stand out as a fusion bra is the contrast between the metal and the black fabric and the arrangement of the chains used to create an attractive pattern.
One detail that might not be visible from this photo are how much silver is on these pieces to give it the ATS/fusion look. Keep in mind, the yellow background is reflecting on the coins, so the colors are not 100% accurate.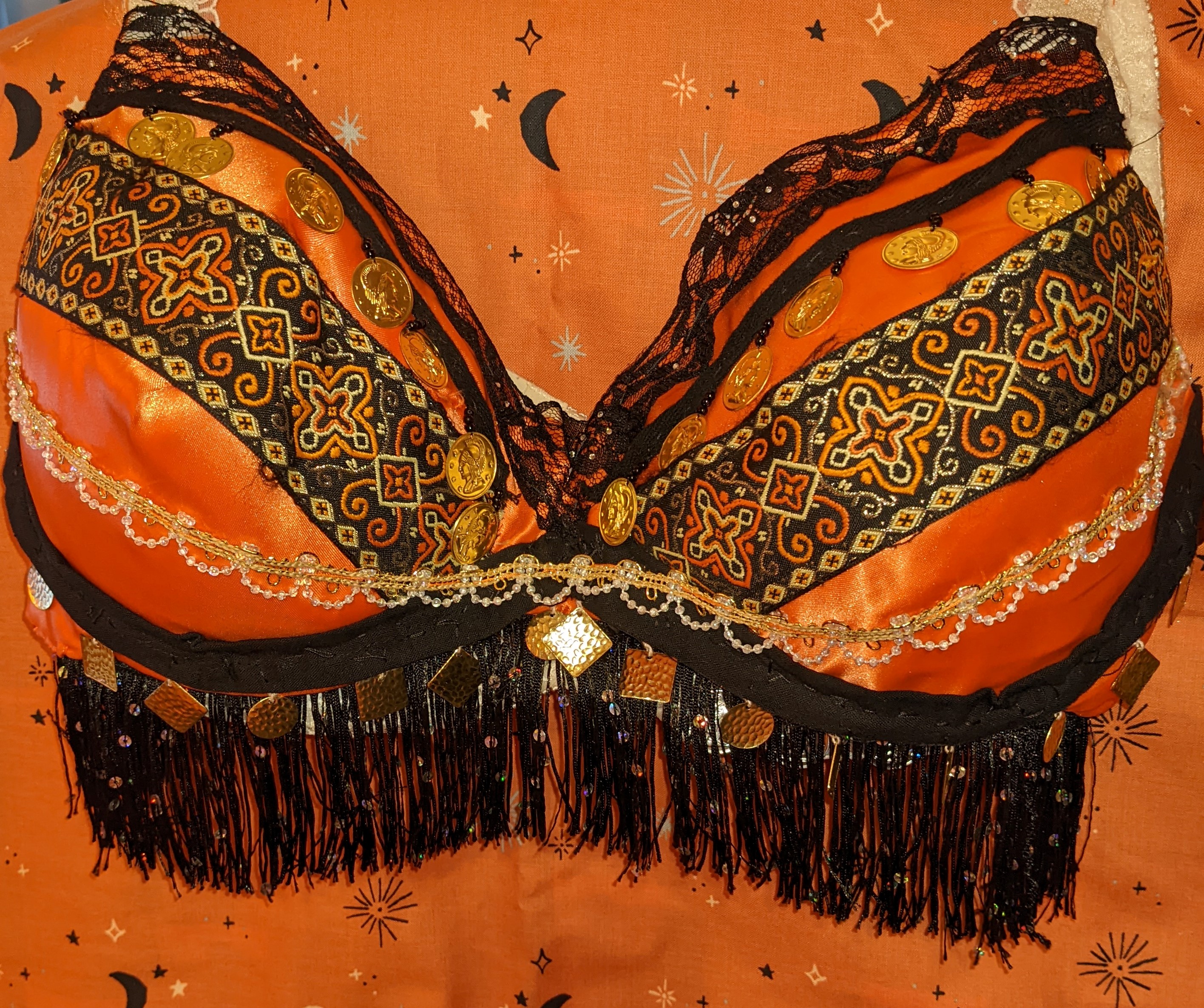 Phoenix Bright
I love how this piece by Phoenix Bright captures her love of bright colors and still shows off an ATS, tribal, or trans-continental style. As one is putting a coin bra together, think about the fabric being selected and how it will be arranged on the bra as well as the placement of the other pieces.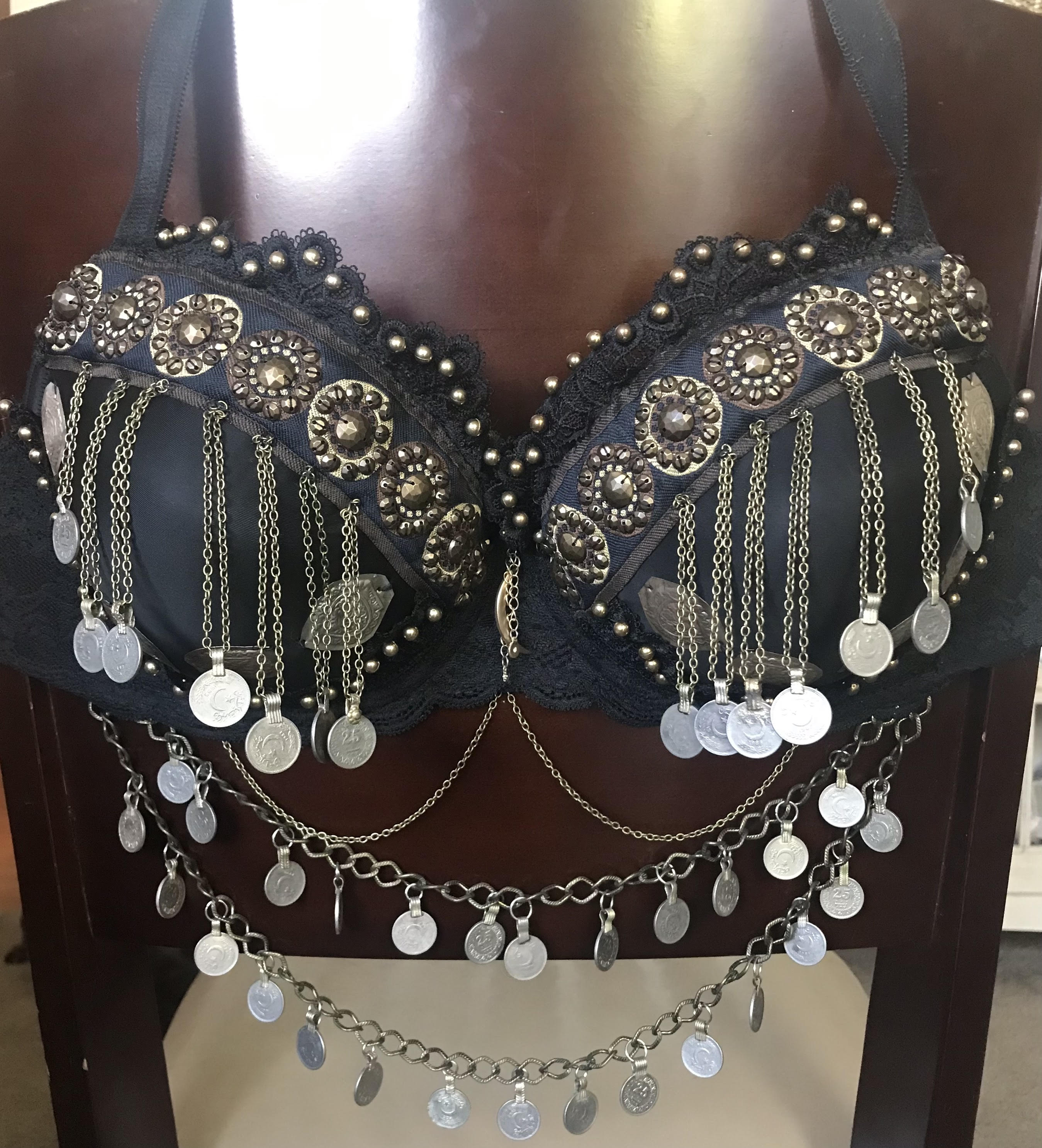 Rayha
This piece captures fusion and the traditional ATS look so well, and is made so well, I thought this bra had been made by a professional. One of the details I want to point out about this is how the color of the metal ranges from tarnished silver to an antique brass. The tarnished metal color gives the bra the look of ATS and fusion.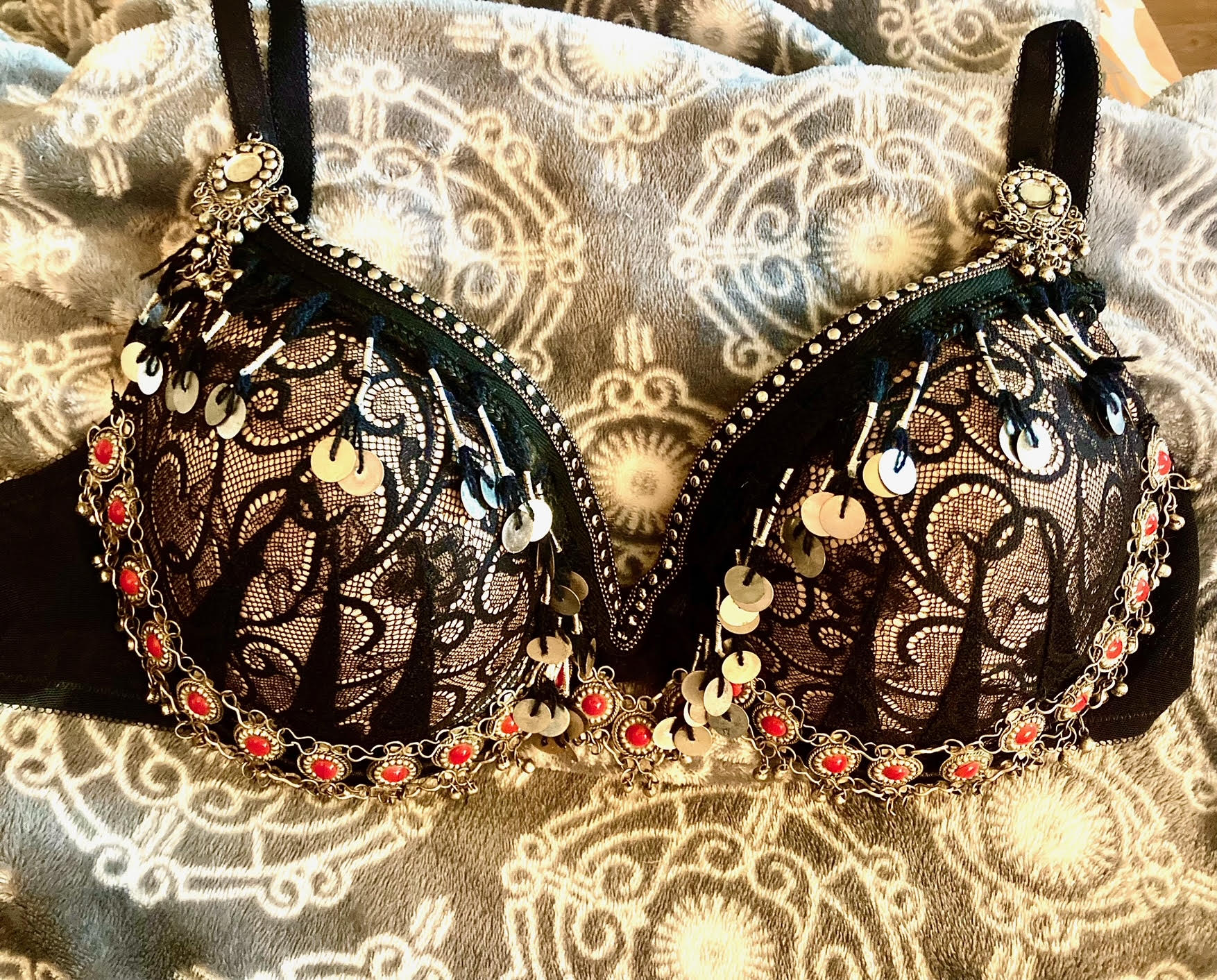 Alysse
I saw some of the jewelry and belt before Alysse transformed it into her bra. This is another one of those pieces that I would have thought had been purchased on Etsy because of the quality of the metal items and arrangement. Alysse said she made it from a belt from India, new trim, old trim, and earings.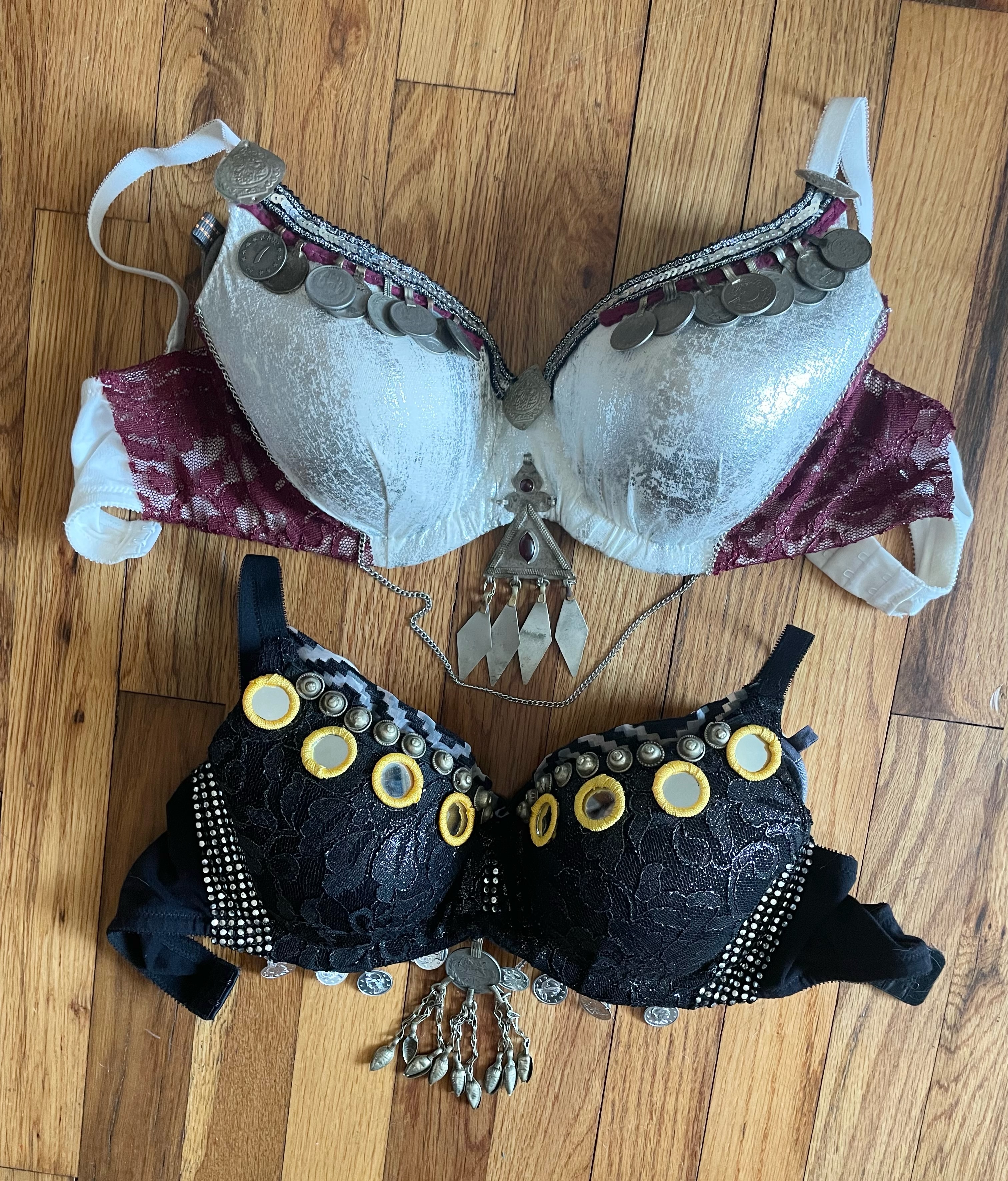 Sara
This shows off two color schemes, a black base and a white base. Both are versitale for different styles and ocassions.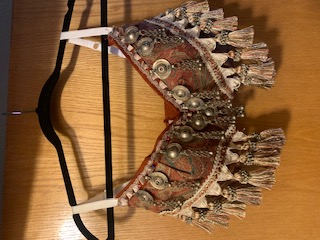 Shelly
Examine this bra above. Notice the tassels, placement and colors. This is going to look familiar in a minute when you scroll down and see one of Michele's bras and mine.
Michele
I am going to put her name at the top instead of the bottom because she has so many! She probably has more creations than I do. I told her to pick her favorites. As you will see below, she has more than one favorite--and so do I. It is so fun seeing her creativity. Michele purchased many pieces of trim from Mindy's in the 5th Street Market in Eugene (assuming they still exist) and pieces of metal from the Red Camel.
The styles really do range from tribal, to fusion, to a tribaret style in between ATS and fusion.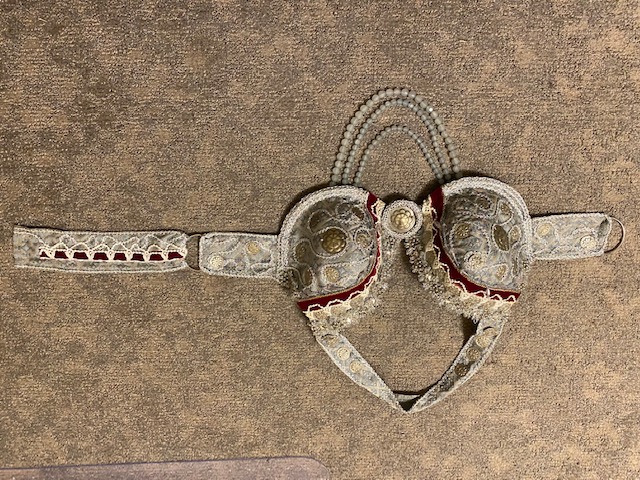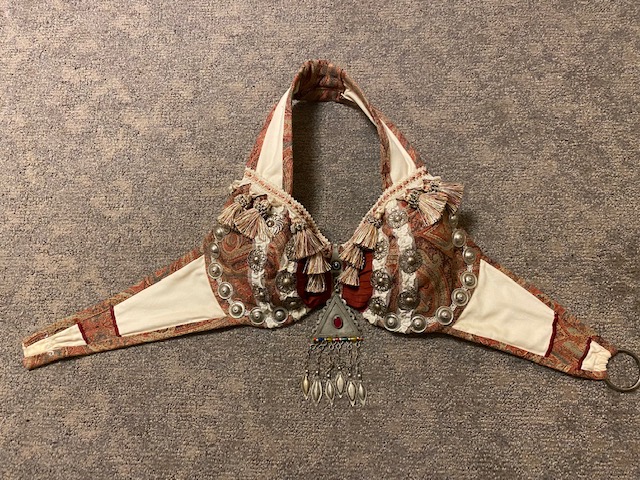 Pay attention to the fabric of this one below. These tassels are going to be familiar when you get to my section of bras!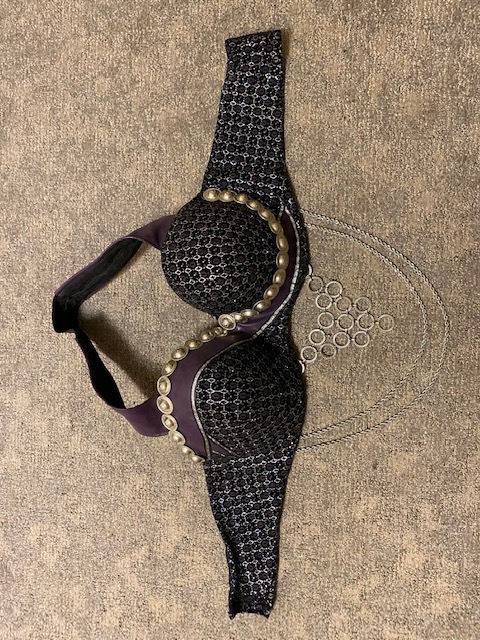 I remember this purple one from performances back in the day.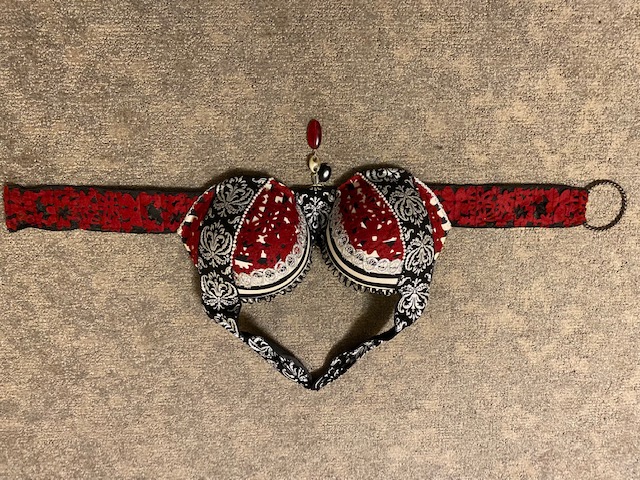 I remember this red, black, and white bra from multiple steampunk performances and No Shame shows.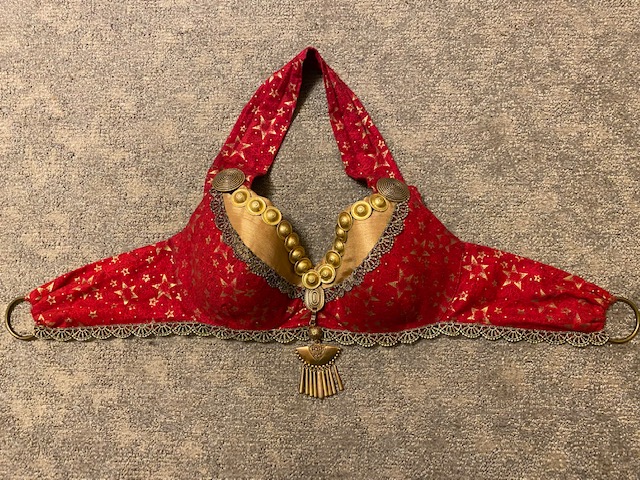 I often think of gold as a cabaret style, but this is more of a dull gold and bras and so it still has that ATS look.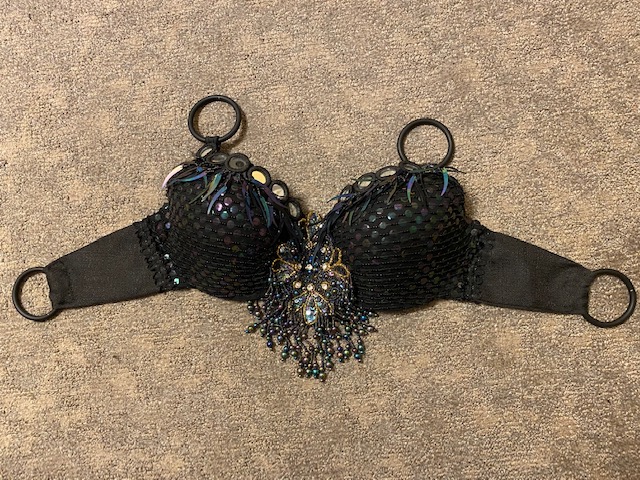 I love how this piece shimmers like an oilslick. It really bridges ATS with the shisha mirrors and cabaret with those iridescent beads. I drool over this one. Black oil slick is my color scheme.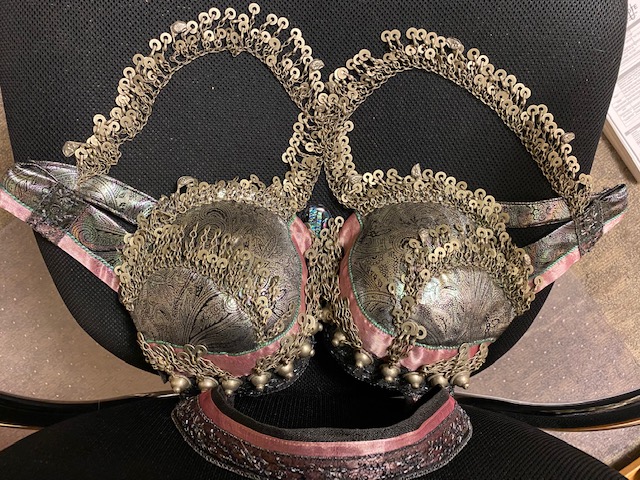 I remember when Michele showed me that silver paisley fabric when she upcycled it from something from the thrift store. Notice those pink and blue accents in the colors shimmering on the strap and the pink and blue trim. I swear, Michele is so good at matching colors that she could be a quilter.
Here are a few of mine: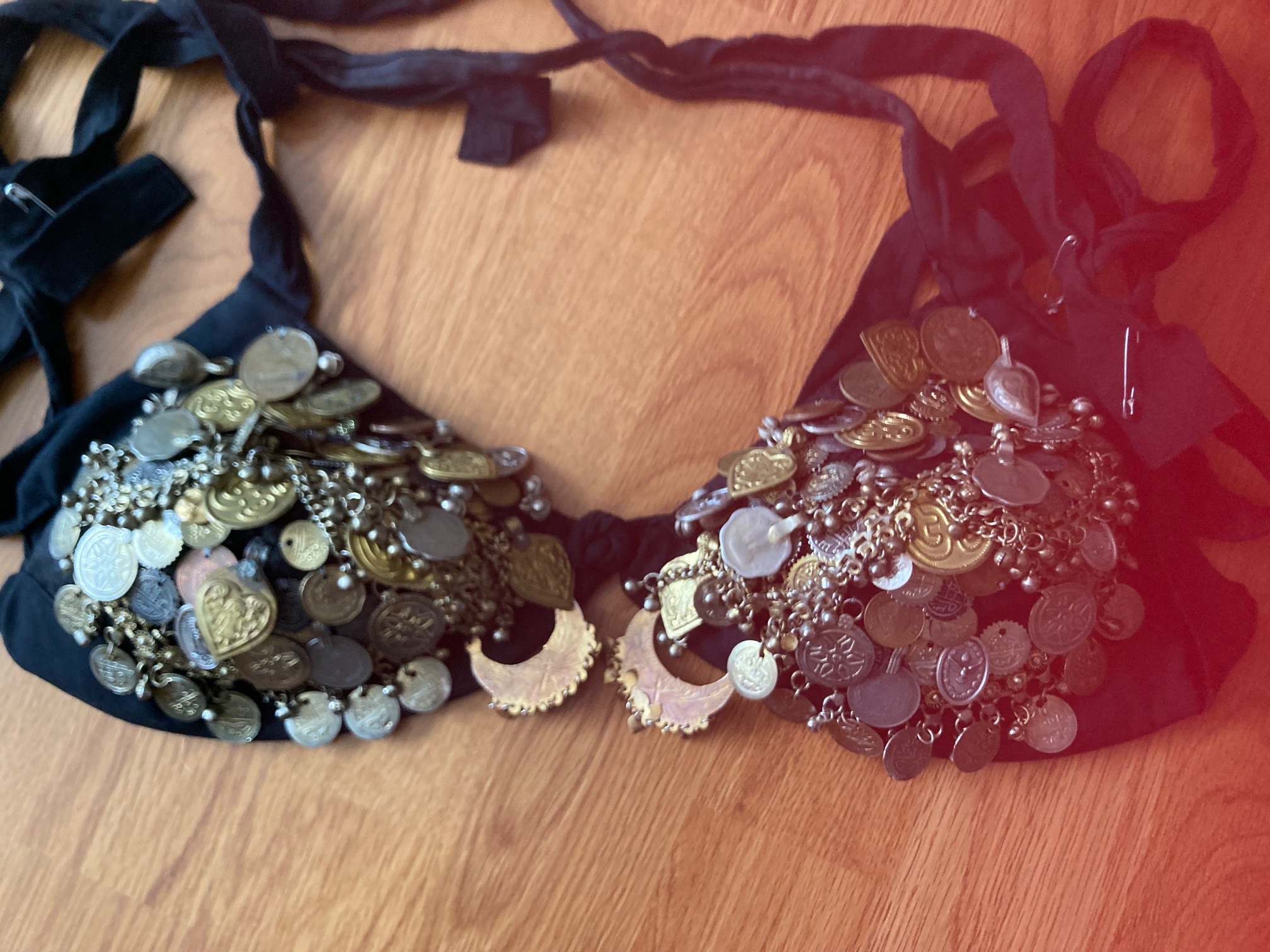 ATS/fusion coin bra
This is my actual coin bra that has coins on it. I didn't make it. I purchased it 20 years ago. I probably paid $50 for it used. It is heavy and I don't like how it tied behind my neck and made my neck pain and cervical arthritis worse, so I made modifications for how it ties. In general, I recommend sewing bras that tie or fasten behind the neck so they don't pop open later. Also, this is one of those nonsupportive bras that are so heavy they squash everything. It looks so much better over a choli (half shirt) or another bra, which also makes it easy to stay in place. Even if I didn't need to wear a bra under this, I would so that I never have to worry about popping out of it, but I know a lot of women who do not.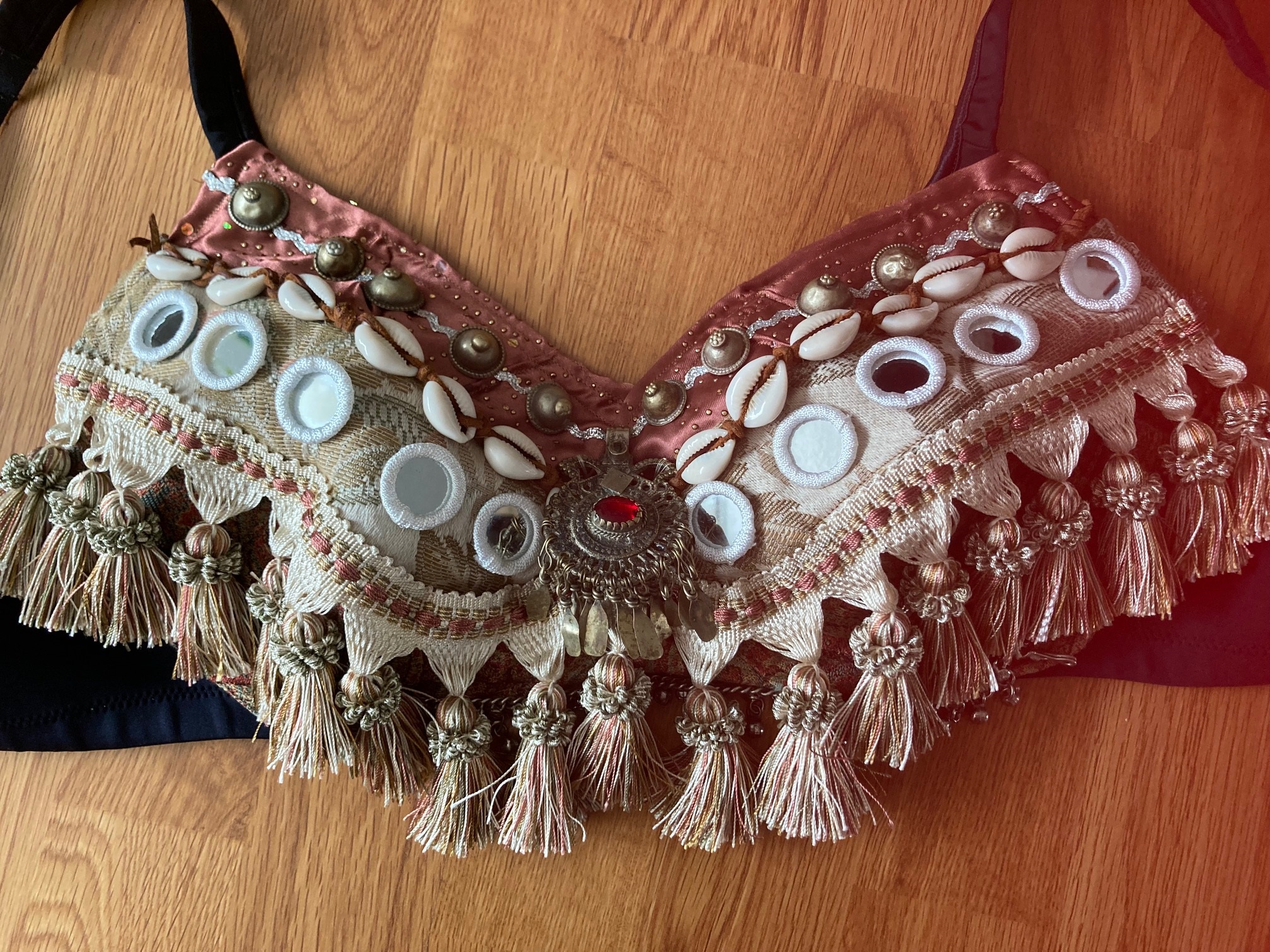 Tassel bra
Are these tassels familiar? Years ago, I got together with some dancers in Fusion Fascination and we all made coin belts and bras made from the same fabric. My belt is still unfinished but the bra has been made and has gotten several uses out of it. Even with the cowrie shells, shisha mirrors, tassels, and metal embellishments, this is lighter than the coin bra that is all coins. Even though I call this a coin bra, it really has no coins on it. But all the elements on it really fit that ATS look.
I believe the tassel fringe came from curtains. You might recognize some similar fabric in the bra Michele made above if you scroll back up. The bras are different but have similarities that make them feel like they belong in a duet together. Or a triplet if our other friend finishes hers.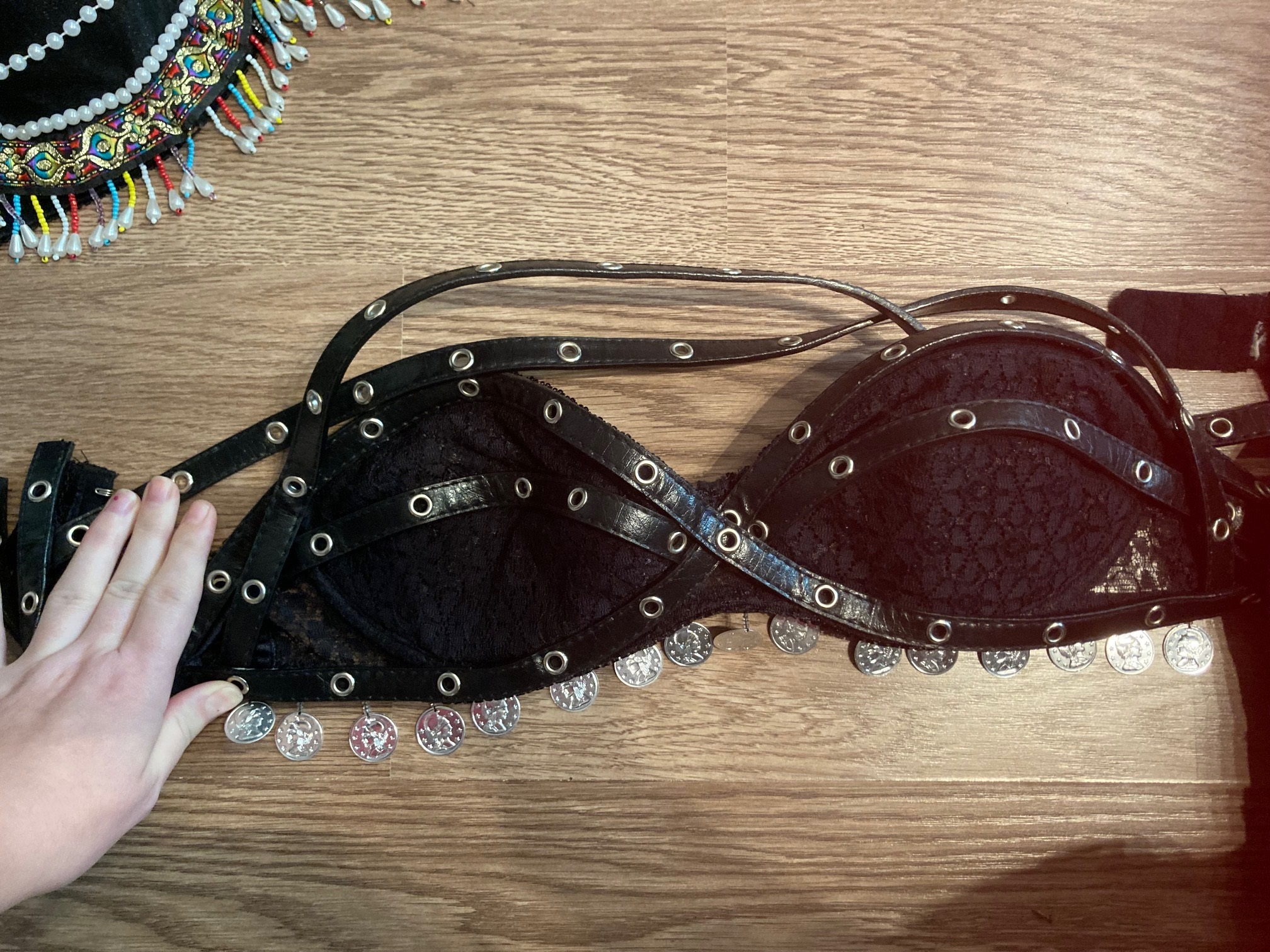 Fusion bra
When I moved to Japan, I didn't want to bring my belly dance coin bra. The bra was too heavy for my suitcase, which was already full and heavy. I didn't want to lose it to TSA theft. As much as it broke my heart, I left it in storage at home. That meant I needed to make a bra while I was in Japan so that I could wear something for performances. I purchased an inexpensive bra and covered it with belts from the 100 Yen shop, the equivalent of the dollar store. It was a lot of hand sewing through leather and I bled a lot.
I had brought a couple years of coins with me from Joann Fabric and sewed them on to the piece to embellish it. Since that time I have seen much thinner imitation leather with rivets in the ribbon at Joann Fabric. It is much easier to sew than real leather and I would recommend it even if it is going to be five times more expensive.
I got a lot of use out of this coin bra and the matching belt before I became too busty for it. I hope I will some day fit in it again.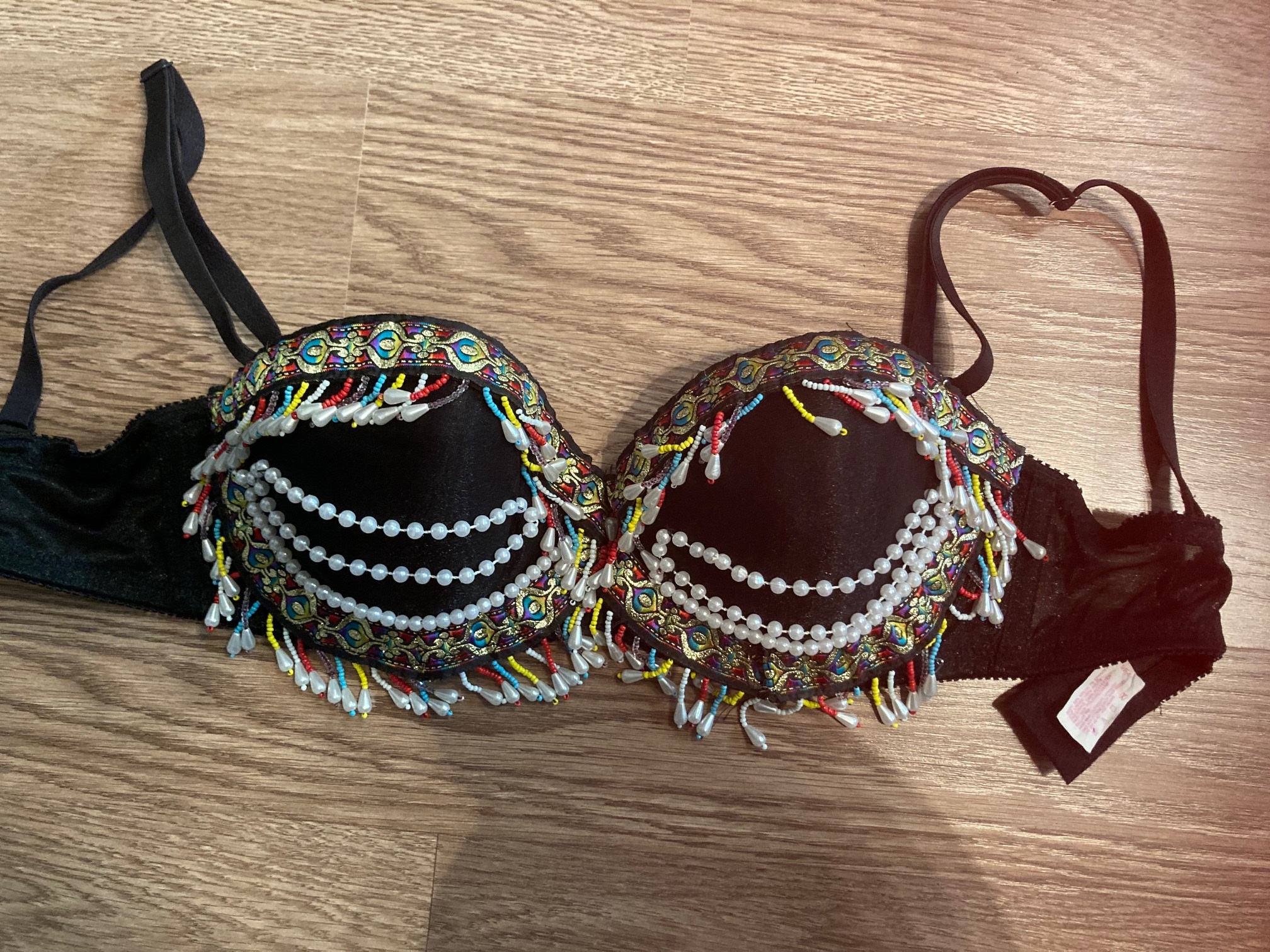 Close up of detail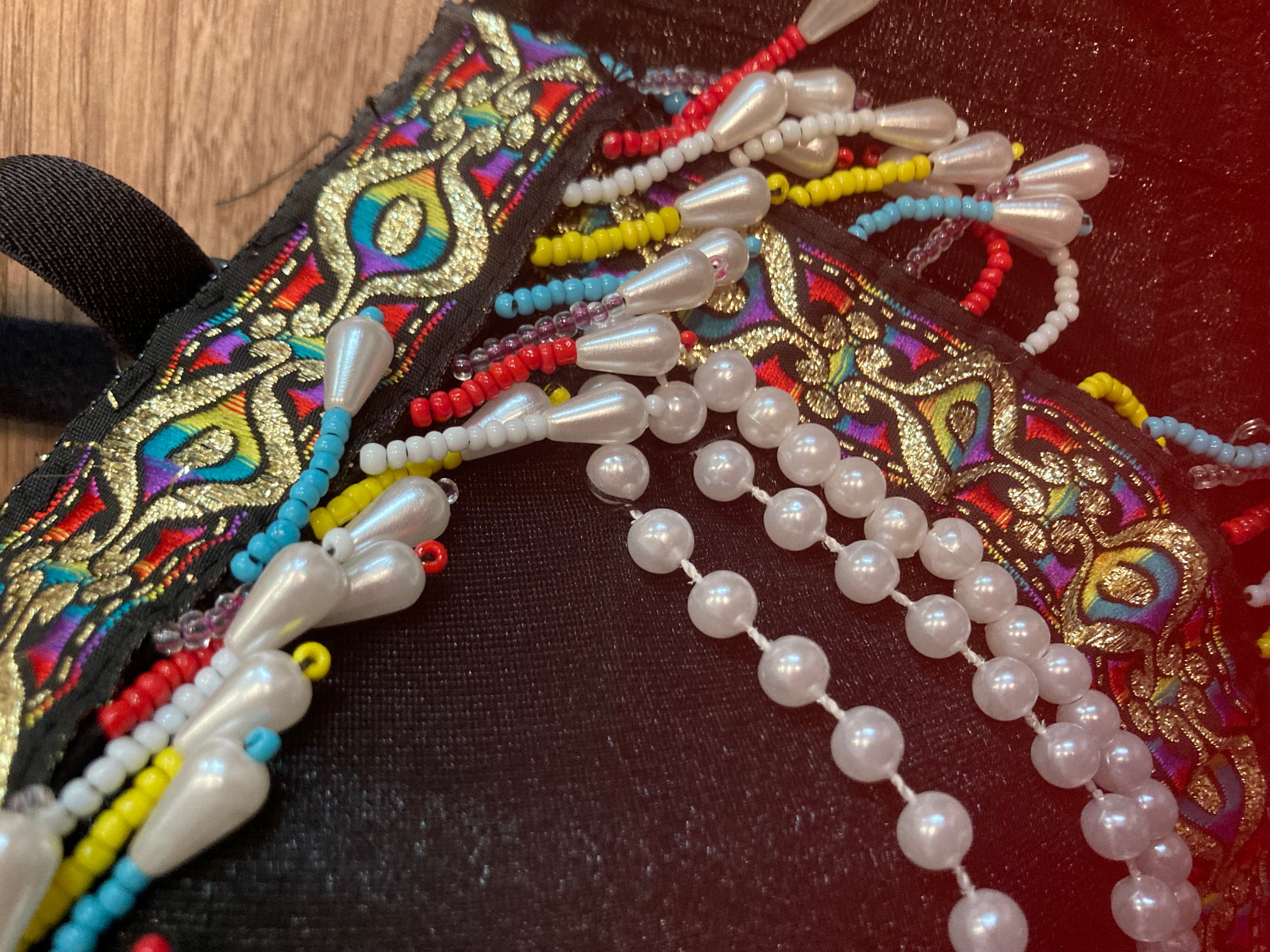 Eastern European-Inspired Bra
This was the very first bra I made for one of my first performances. The embroidered trim with the beads attached came from a thrift store dress given to me by my mother who knew I was collecting pieces to make a costume.
The trim was a great find. I removed that trim from the dress with a seam ripper and sewed it onto a black bra, and though I wore it for my performance, it just looked too plain and bare. Eventually I added a couple lines of pearls to break up the negative space in the black center and liked it a lot more.
The pearls in this piece and the bright colors give this bra a different look from the rest I have shown. I wouldn't call it cabaret. I would just say it is a different kind of fusion, more of an Eastern European-inspired look than the Mediterranean, Middle Eastern, or Northern African style one would see in ATS. For that reason, I am much more likely to wear this bra when I am performing a solo than dancing with a troupe.
I have a lot more finished and unfinished costumes. A lot. But those are some of the highlights. And half the bras and belts I own are cabaret and have a very different look. They really belong in a separate post! You can view some of those pieces here: