on Mon, 19 Sep, 2022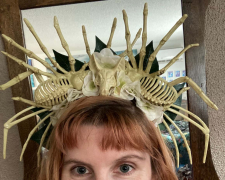 Fusion Fascination will be performing at a show in October. We will be dancing to a Halloween-inspired set. I have attached my princess crown that I have been working on. It cost less than $5 to create with parts from Dollar Tree. Below is a list of items we will need for this show as well as optional items. If you find any fun Halloween items you want to share with the group, you are welcome to do so.
The most important thing I should mention is NO BLOOD. Back in the days of Medge shows, we were told we could not show blood or gore due to Cozmic Pizza policies. Now that it is under new management and rebranded as Whirled Pies, it is probably going to be the same rule. We can be funny-scary or creepy scary, but not gross scary.
Cheese cloth (white or orange--I found white at the Dollar Tree)
Mask (You will get this from me next week. It is $2.)
Black lace to cover the eyes and drape to hide the mask. (Your choice what you want this to look like, spider webs or just a yard of black lace you have in your fabric box)
Optional: Distressed zombie fabric
If you don't find these items locally, or just want to see examples, compare prices, etc, click on the links below:
White cheese cloth--4 pack $13
https://amzn.to/3DwtWyh
Multicolor pack of 4, includes orange and white and other colors
https://amzn.to/3Uio3dZ
Just orange $6
Multi pack-5 pieces, black and white least expensive (or just white, but more expensive) $12-14
https://amzn.to/3RWuXUH

***Optional items
Distressed Zombie fabric
https://www.joann.com/fabric/apparel-fabric/costume-fabric/?lazyLoad=true&start=0&sz=30
Same fabric, different store
https://www.spirithalloween.com/product/multi-tone-shredded-fabric/224599.uts?Extid=sf_froogle&utm_medium=referral&utm_campaign=freelisting&utm_inex=e
Bridget found these spider necklaces that I think she will be wearing:
Big spider necklace
Victorian style choker with spider
I am certain you will be finding all sorts of fun things this time of year--or you might have fun items leftover from Hallowen costumes in the past. As long as there is no blood and gore, bring it and we can see if it works! I don't want to be the only one to wear my spooky crown!