on Mon, 09 Mar, 2015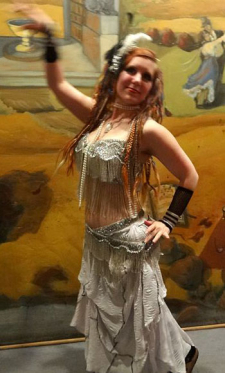 Groups like Fusion Friendly Events or the Middle Eastern Dance Guild of Eugene have guidelines for performers who are auditioning to participate in their shows. These are great guidelines for belly dance try-outs, but also for performances in general. If someone is new to performing, these are some great things to take into consideration. The list below is what Fusion Friendly sends to performers interested in participating in our events. Although a lot of it is catered to the fusion venue, many suggestions are relevant to any performance or audition.
Letter for new dancers:
Fusion Friendly is a collective of experimental, avant-garde performers who fuse belly dance with other styles such as flamenco, breakdance, modern dance, jazz, burlesque, theatrical, poi and other styles. We currently host 4 events a year. The majority of these are at Cozmic Pizza. Various members also run other events and invite performers from the fusion community to participate.
The performances at the shows don't need to adhere to Middle Eastern costuming, music or style. Our events are "variety shows" and often encourage other styles of performances appropriate for the venue and theme such as live music, poetry or comedy.
We consider our events to be of a professional level, not student quality, which is why we have created performance guidelines and ask for auditions.
Audition Guidelines:
-If you wish to audition, you may do so once a year until you become a member.
-You must be approved by at least two board members in order to perform at Fusion Friendly sponsored events.
-Our preferred method of audition is a link to a Youtube video with a large enough file size to see your movements, costuming and stage make up. You may also invite F.F. board members to watch you perform at an event, though there is a possibility we might not be able to attend, especially if we aren't given enough notice.
-You may be accepted as a performer conditionally, meaning that we may ask you if you are willing to make a costuming change or thematic change for the show.
-If you aren't accepted to perform at our shows, we may suggest other events in the meantime where you can gain experience practicing in front of an audience.
List of requirements for auditions and performances:
Technique
-Clean, precise technique
-Has practiced enough for it to look smooth and effortless
-Body awareness, posture, coordination
Stage Presence
-Is comfortable enough performing to show personality or stage persona
-Eye contact with audience
-Facial expression when appropriate
Costuming
-Professionally attired (Many of us make our costumes, but we hope that they look like they are Etsy quality, and no one thinks we bought it for $5 at a thriftstore)
-No bikini tops/bras (a.k.a. not hanging out of a too small/tight/unsupportive of a costume)
-Has practiced in this costume and doesn't look uncomfortable or is tripping over it
Stage Makeup
-Must wear enough makeup so that one's face is visible in the bright lights
-Even if this is just a video in your living room for an audition, you should still wear full makeup and costuming just as you would in an actual performance on a stage.
Appropriate type of music, costume, and level of suggestiveness for the venue
-No stripper fusion at a family friendly place (like Cozmic Pizza)
-Appropriate style for theme of event (a.k.a no mimes/clowns at Gipsy Nouveau, though theatrical or comedy of Turkish/Eastern European would be fine)
Volunteering
-We want a chance to get to know you before performing
-This is also an opportunity for you to see a few shows for free and see what happens behind the scenes
Friendliness required
-We are all just volunteers and spend a lot of time putting these shows together to the best of our abilities. In order to have continued positive relations within this community, we encourage our members to be polite, honest, and friendly. We all have a little inner diva. But we ask that you save it for the stage, not the board meetings.
http://www.fusionfriendly.com/about/