on Fri, 09 Jan, 2015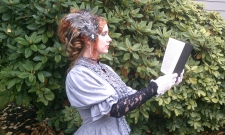 Most of you know me as a belly dance teacher and performer. In addition to my day job teaching, my evening job teaching dance and my in between job as a local fashion designer, I am also a published author. Recently my two worlds of belly dance and writing collided when I sold a story about a male belly dancer to an online magazine. Although I have written another story with a belly dancer in it, this is the first one that sold.

Below is an excerpt from the beginning of the story. To read the story in its entirety, please visit the link below.
Aladdin's Neti Pot
Sarina Dorie
"Doctor, my allergies are killing me," I said. My usual deep voice came out nasal and stuffy. The paper sheet crinkled underneath me as I sat down on the table. I could only hope it was clean paper.
Exotic elevator music from the reception area played over the speakers in the exam room. All I could think as I sat there on the table was, "What if that horrible pain in my nose is because it's growing like Pinocchio's because of all those lies I told my wife about eating celery and carrot sticks while I was really sneaking candy bars and hamburgers on my low cholesterol diet." I touched it to make sure it hadn't grown a foot like my cousin's friend when she lied about her age. I groaned over the agony of that gentle touch.
"Mr. Burns, did you use the allergy medicine and the nasal spray I proscribed?" Dr. Bravo's weathered brow crinkled up even more as she glanced over her clipboard.
To read the story in its full entirety, click on the link to go to Electric Spec:
http://www.electricspec.com/issues/volume-9-issue-4-november-30-2014/aladdins-neti-pot-by-sarina-dorie.asp
Other stories can be found at:
www.sarinadorie.com/writing/news