on Sun, 26 Mar, 2017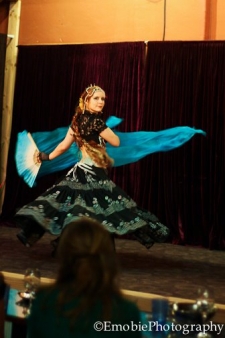 People sometimes ask me what the difference is between Tribal and Tribal Fusion. There are different dance moves, styling and music that might differentiate the two divisions of belly dance. The easiest and quickest difference to spot is visually in the costumes. Tribal will have more tassels, cowrie shells, little mirrors, ethnic jewelry and ethnic fabric patterns. Tribal fusion will probably have more grommets, studs, spikes, and chains. Both will probably have coins and metal and there is some overlap in the materials used. One of the things that I really like about tribal and tribal fusion costumes is the upcycled materials and the relative thriftiness of cost in making a tribal fusion costume as opposed to a cabaret costume.
Over the years I have made many belly dance costumes. In this post I am featuring the bras and belts I have made for tribal and tribal fusion performances. Some of these I wore in Portland when I was a student at Gypsy Caravan Studio and Euphoria Studio, some when I lived in Hokkaido, Japan and some I still wear in Eugene when I have performed at Medge (the Middle Eastern Dance Guild of Eugene), Fusion Friendly Events, No Shame Eugene or other belly dance performances.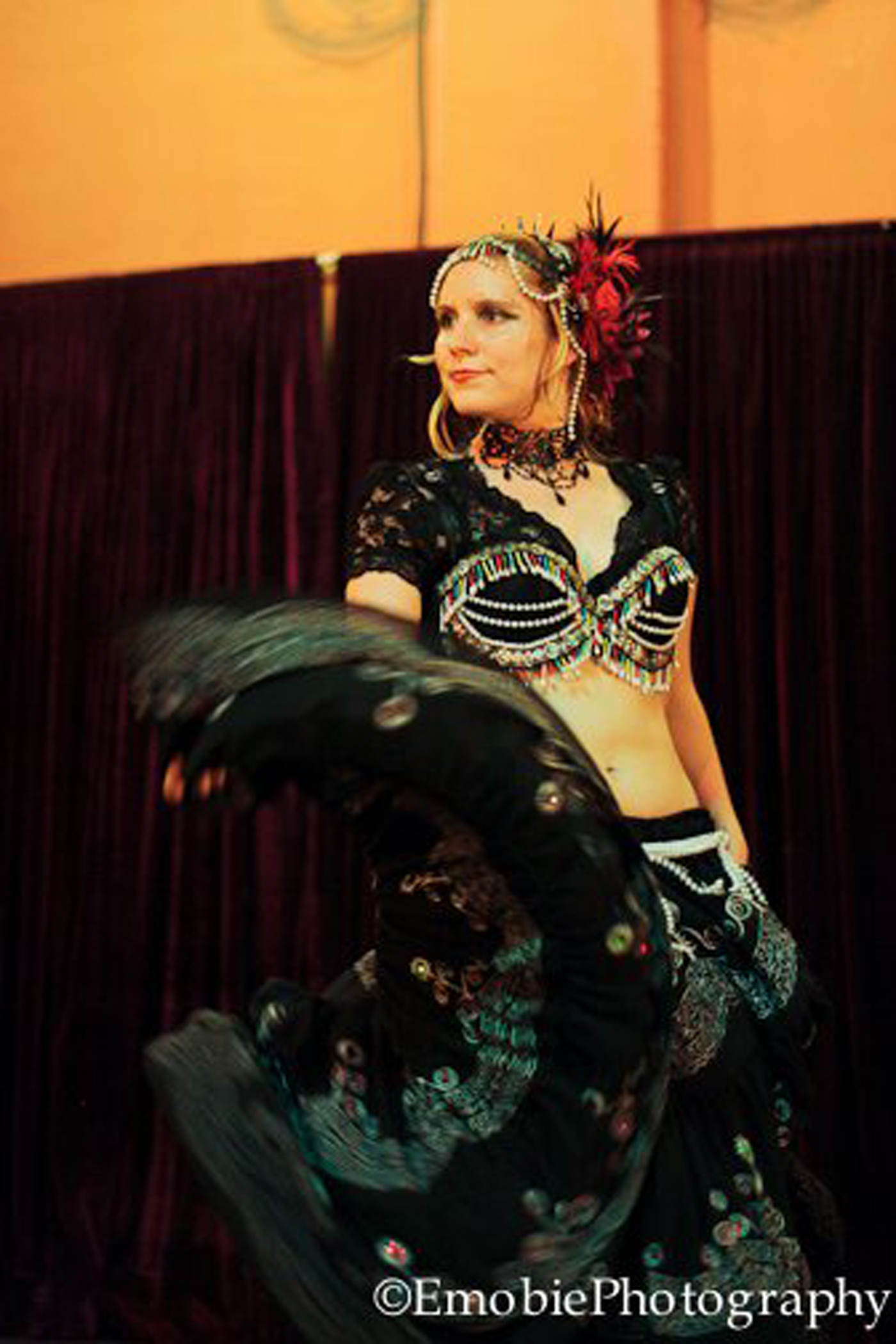 1. First Bra—Eastern European/Roma
My mother knew I was experimenting with belly dance fashion and sewing costumes. She found a dress at the thrift store with pretty trim and bought it for me. I removed all the trim and sewed it onto a black bra. It looked unfinished for a long time. Then I added the pearls and it looked done. I like to wear this bra with the pearl belt I made to match.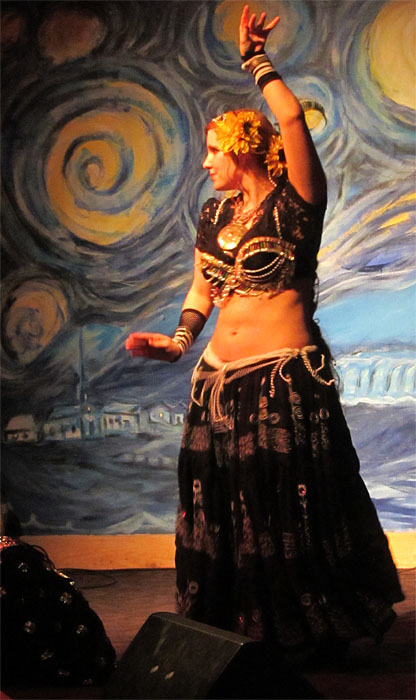 2. Belt to Match the Eastern European/Roma Bra
I made this to match the bra with the same trim. What I didn't realize was that the metallic thread in the trim would be so itchy. When I wear the bra these days, I know only wear the pearl belt that goes with it. However, I hope to someday sew this trim onto something else so I can wear it as a belt. I also made matching accessories like a Roma princess crown and an arm band.

3. Tribal Fusion Bra
While I was living in Japan I needed a belly dance costume for a performance. Everything was twice as expensive in Japan, though sometimes it was closer to ten times as expensive. I didn't want my mother to send me my heavy coin belt and bra by mail because that also would be very expensive. For that reason, I decided to make my own tribal fusion bra. I bought an inexpensive bra at the Hyakuen Shop (in Japanese that translates to 100 Yen Shop so it equivalent to the dollar store here), and I bought some belts with grommets also at the Hyakuen Shop. Because I was sewing leather, I needed a thick, stiff needle. I was pretty lucky I was able to find a bra in Japan that fit because most foreigners can't find clothes that fit in Japan. Because I am only 5 foot, that probably made it a little easier for me. I have gotten a lot of use out of this bra, though it is small for me now and the leather that I sewed across the back of the bra doesn't have a lot of give so it doesn't stretch well.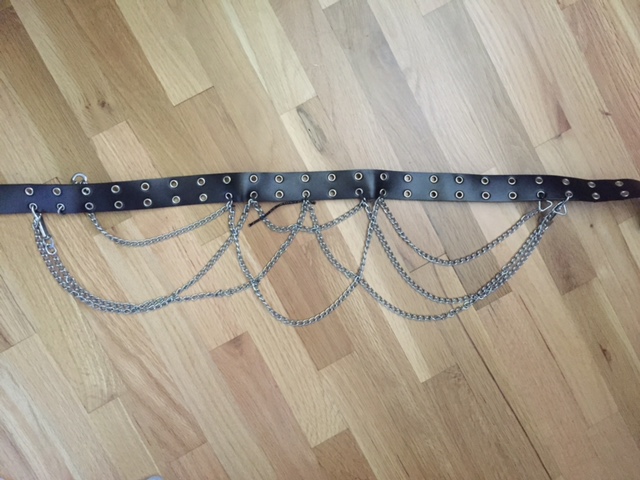 4. Tribal Fusion Belt
To make this piece I added dog chains that I tied in strategic places to a punk belt I bought at the equivalent of the dollar store while I lived in Japan.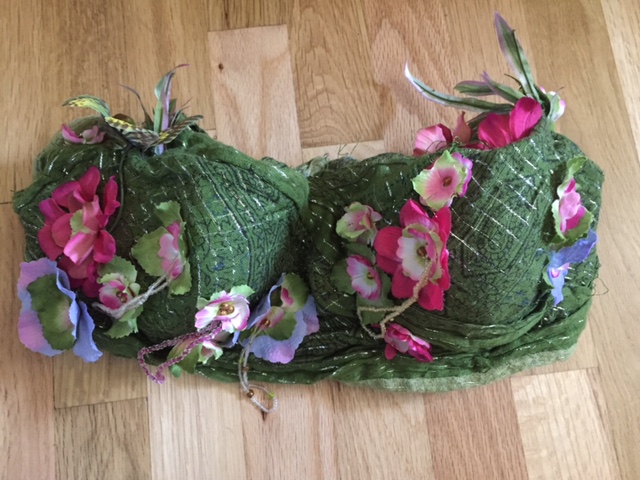 5. Fairy Bra and belt
I had imagined I would someday dance as a fairy at Faerieworlds or some other event. I know I did dance at a fairy event but I don't think I finished this bra until afterward. I started by sewing a green and silver scarf onto a bra. I had been collecting small flower centers that were left over from my hair fascinators that I made and sold. I sewed this on, using beads for the centers and in some places sewing on bracelets that had that were falling apart.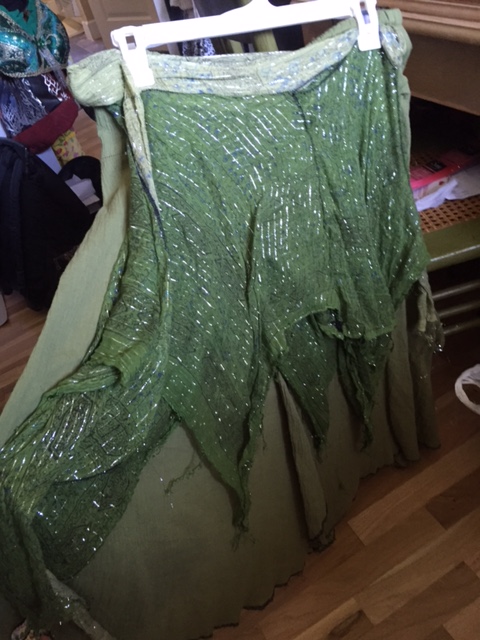 6. Fairy skirt and belt
The under skirt had overlapping petals. I based the design on a skirt I had seen and liked years before. The overskirt belt is a wraparound skirt made out of other leftover scarves I had bought at The Dollar Scholar in Portland.

7. Steampunk bra
This is one of my favorite bras. I did buy some things from the fabric store specifically for this, however, most of the pieces were from my jewelry box that I didn't wear anymore. There is a butterfly from a pretty hair clip, a piece from a metal bookmark, an old watch, necklaces and bracelets people gave me, an old belt I liked but didn't fit and lace scraps that were probably my grandma's.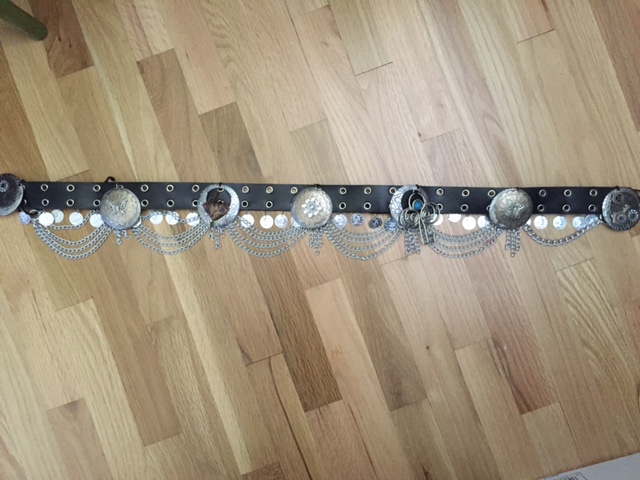 8. Matching Steampunk Belt
I started off with a Hyakuen Shop belt and used elastic cord to tie a metal chain belt to the leather belt. I then tied metal disks that I decorated with gears, clocks, old keys, rhinestones, pennies and anything else metal I could find.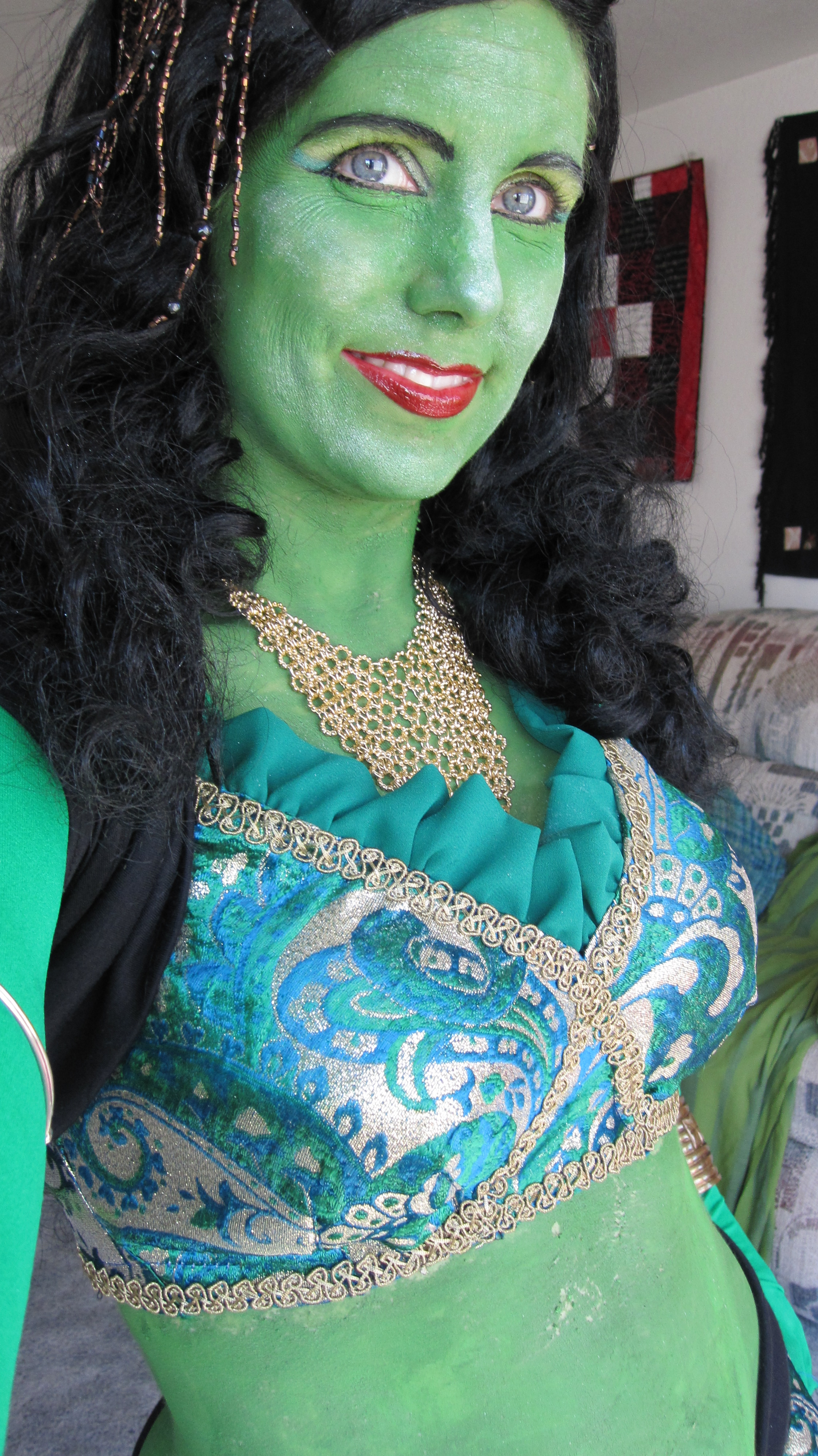 9. Orion Slave Dancer Bra
I made this with fabric that my friend, Nina Kiriki Hoffman gave me. I think she said she intended to make this into a belly dance costume in the sixties or seventies when she used to dance. Because the costume is for a performance as the Orion Slave Dancer for Trek Theatre's Eugene productions and she is from the original series, it seemed perfect to use vintage fabric. I made some mistakes in the making of this bra which I talk about here: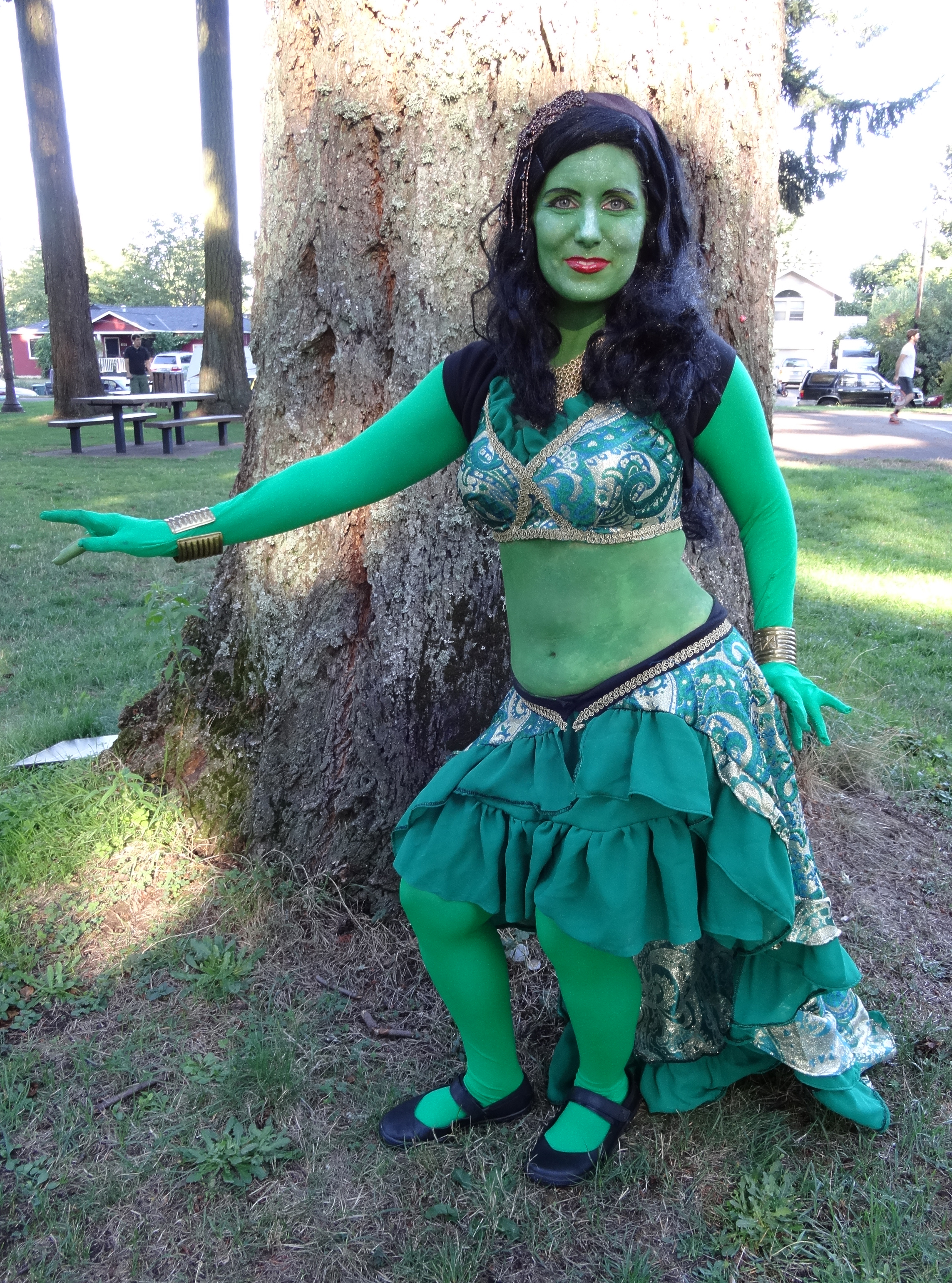 10. Orion Slave Dancer Matching Skirt
I purchased the necklace and belt for this costume, however, I made the skirts that go underneath. The first layer is a green slip and the second layer is a ruffled skirt.
For examples of merchandise I currently sell, whether it is bloomers, hair fascinators or steampunk jewelry, visit my other website: