on Thu, 02 Jun, 2016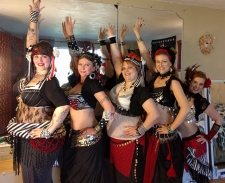 As a tribal fusion belly dancer, I have a lot more freedom in of music, movement and costume because I have a broader selection to choose from. As a result, I sometimes select unusual music.
Often times when I perform, I choose music that has a good beat, that inspires me and often times, themes that makes me laugh. Sometimes I match my music and the nuances of my belly dance style to the costume, sometimes I do the reverse and match the costume and style to the music. In this post, I share three songs that have recently inspired me. I have practiced these in my classes at Willamalane Community Center in Springfield and my students have performed to these in Eugene at performances.
I share these videos in the hope that you, too, will be inspired and will laugh.
Dark Lord Funk
I enjoy a well done parody. I enjoy soundtracks. Watching this video is like an inside joke for anyone who is familiar with Uptown Funk and Harry Potter. I especially love the places the musical artists combined both songs. I performed to this piece on 6/2/16 at No Shame Eugene for a magical belly dance performance. My sister asked if I would wear a skull cap. You'll have to watch the video on Youtube to find out.
https://www.youtube.com/watch?v=zbdvogFyZZM
Papa Americano
This is a fun song my boyfriend heard playing in H & M and knew I would like it because even the elderly in the store were dancing! The music video is fun. I love the blend of old and new. I have been playing this song a lot in my belly dance classes and we used this in our recent balanats.
https://www.youtube.com/watch?v=ZXyEiGnkYms
Handsome Dancer—Coincidance
Recently at No Shame Eugene my student troupe danced to this song with Zahia Izzah as part of our finale. It is a fun song to listen to but the video is even more fun.
https://www.youtube.com/watch?v=nBHkIWAJitg
If you enjoyed these videos and this article, you would probably enjoy reading Sarina's newsletter for Bellydanceeugene.com. Consider signing up for her mailing list to find out about her next performance and read her newest blog posts.