on Mon, 29 Jun, 2015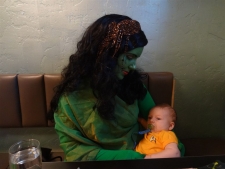 You have heard of Shakespeare in the Park, but what about Star Trek in the park? There is a local theatre group in Eugene who puts on Star Trek episodes in the park and sometimes small theatres to share the joy of science fiction. After these productions or between shows, Sarina can be found enjoying local cuisine at nearby establishments such as Papa's Soul Food Kitchen and Barbeque where they serve human and aliens alike. Sometimes she gets some strange looks from people, is asked if she is playing the witch from Wicked and hears no end to the jokes about how it isn't easy being green. One might wonder WHY she would want to take hours to put on that green make up—and nearly as long to take it off—for a belly dance performance. Here is why:
For as long as she can remember, Sarina has always loved Star Trek. When she was a child, she was fascinated by the Orion Slave Dancer in the original Star Trek series. Later when she was a teenager and learning to belly dance, she realized the green alien woman on the television show was belly dancing. Since those early years, Sarina has dreamed of combining her love of science fiction and belly dance.
When she heard about Trek Theatre, a Eugene based theatre troupe who put on plays of Star Trek episodes, she thought she would have to beg them to let her "go where no belly dancer has gone before. They soon learned "resistance is futile" and "beamed her aboard." Sometimes Sarina feels like she lives in an episode of Portlandia.
Set those phasers to stunning and attend a Trek Theatre performance to see what Sarina, the Orion "indentured servant" dancer has in store for us.