on Sun, 18 Sep, 2022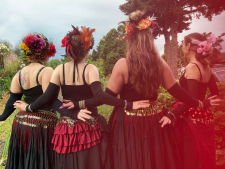 So far, I have tried to keep Fusion Fascinations costumes simple, uniform, and professional. In order to do this, we need to use color to create unity and wear some of the same items, whether it is the same style or variations so that we look cohesive. The moves I teach are primarily ATS with some fusion mixed in. (In case you are wondering, ATS is what many call American Tribal Style, which I am calling American Transcultural Style). Cabaret style favors gold and gold coins. ATS and fusion favors silver or tarnished metal. But it is fine if this is your first show and you are collecting items. Some people only have gold.
In case you are interested in performing, here is your basic costume we have been using as well as the most inexpensive deals I could find. Prices are always changing, and old sellers go away and new ones pop up. If a link doesn't work, let me know and I will correct it when I have a chance.

Below is a list of items we typically have used for our costumes for belly dance that we will be reusing:
*tiered black skirt
*Black rhinestone mesh mask
*flowers attached to headdress or headband for ATS look (This needs a blog post/tutorial in itself!)
*something to wear underneath the skirts, whether leggings, harem pants, etc.
*coin belt (burgundy/maroon, most of us have fringe and coins on this belt)
*coin bra/ATS style bra (it needs to be worn over a black bra)
*Black lace choli with long sleeves or black lace shrug
***a layer of fabric, another fringe belt, bustle skirt with pockets, etc. underneath coin belt (I do this so I have pockets for my cell phone and keys but other people just might want another decorative layer of fringe to fill in the gap where the coin belt is tied)
For the March Fairy Festival, wear green accents and layer, lots of flowers, glitter
***For all items specific for the Halloween show, please visit this post:
https://www.bellydanceeugene.com/blog/entry/halloween-inspiration-costumes
Links to the items below if you need ideas or a place to purchase (feel free to provide me with links if you have a better deal you want me to post!):

Long sleeve lace bolero like Sara--$25
https://amzn.to/3srzgfD
Lace bolero like Bridget's--$26
https://amzn.to/3f3UbSI

Lace bolero long sleeve--$24
https://amzn.to/3gLzqfj
Lace top stretchy choli for under coin bra--$13
https://amzn.to/3fdLwgu


Old items we are using
Mesh mask from Amazon $6
https://amzn.to/3Ln9iCu
Black skirt Tiered 25 yards--really full skirt $47
Black 5-teired skirt $30
https://amzn.to/3BQaew9
*Just a reminder, burgundy is the color I am telling people to eventually have for future shows. This show you can choose a different color, ranging from burgundy, red, orange, or yellow. If you just want to buy one belt, buy the burgundy one or a plain metal belt to reuse.
Burgandy coin belt (like mine) $16--Best price I could find!
Large-X L
Burgandy coin belt (like Sara's) $28
Burgandy $15 is the least expensive style-$24
(least expensive, but also closer to cabaret style due to sequins)
Inexpensive coin belt (many colors) $12
If you can't find a burgundy belt that fits, buy a metal belt like the one below and wear it over a piece of burgundy fabric cut into a triangle to make a hip scarf or any color fabric.
ATS coin belt $36
ATS coin belt (no fabric) $20
ATS coin belt (no fabric) $26
Burgundy hip scarf $13
https://amzn.to/3R8L1l7
ATS/fusion Coin bra and belt set ($56 for belt and bra--multiple sizes--best price)
If you want to make your own burgundy fringe belt or bra
Burgundy 8 inch tassel fringe for curtains--or making a belly dance belt $22
Premade tassel fringe for making your own belt (or look up fringe tassel -insert color you are looking for) $14
***For all items specific for the Halloween show, please visit this post:
https://www.bellydanceeugene.com/blog/entry/halloween-inspiration-costumes
Gauntlets like what we used in old shows
Solid Black fingerless sleeves $9
(or you can cut them from nylons from Dollar Tree like I did!)
https://amzn.to/3qMdlyD
Sheer black arm sleeves $9
https://amzn.to/3f0TQzI
But who wants plain black when you can have black lace for almost the same price? $12
https://amzn.to/3eXGQej