on Mon, 04 Jul, 2022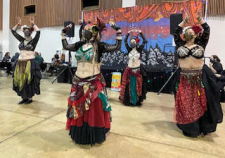 I have been saving my favorite videos of belly dance on Youtube and wanted to share some of my favorite pieces.
Golden Buzzer: Mayyas
This is masterful choreography. If you start the video at 2:45 you get to hear them say their goal is to hypnotize--and they do just that. Their shiva line and the formations they do are breathtaking.
https://www.youtube.com/watch?v=ZD0doCSkBY8
Temple Tribal (Fusion)
I've chosen this video to show off this incredible choreography. The shiva line in this is different from others as well in that you can see almost everyone. There are many transitions and formations in this and that is what makes it so interesting.
https://www.youtube.com/watch?v=KFC5efnnKvc
Silvia Salamanca
This is a great example of fusion costuming and a pleasure to watch a performer doing a triple sword performance. All those reasons I tell students why it is important to have good posture, it is so you can do something like this someday and balance a sword on your head (or anything else) as you dance.
https://www.youtube.com/watch?v=-bPm7WOUAS0
Nagasham-Ka
ATS American Tribal Style
One reason I chose this video is the closeups of the costume, jewelry, hair, and makeup. You can see how the dancers express their individual style while remaining uniform. It is also a well executed video and fun to see their formations and transitions. Dancers in my classes will probably recognize some of the moves we do with a slightly different style.
This dance also makes me remember how much I like Turkish shimmies.
https://www.youtube.com/watch?v=7xSOy83sJxc
Inspiring belly dance makeup looks
This isn't a dance video but I included it anyway. I love all the closeups in this video. It really shows off the ATS and fusion styles of costuming and make up well.
https://www.youtube.com/watch?v=Y04bdUmNBDg
Celtic.Druids
I love this Celtic-inspired belly dance. The costume is a fun fusion that fits the music. I feel like I am part of a pagan ceremony watching this.
https://www.youtube.com/watch?v=F4zi7bJ-dRY&list=FLRJqj1gD8-4CQmCzY-y6STQ&index=28
If you enjoy this content, sign up for my newsletter to get the latest belly dance news and announcements on when I have new blogposts.